Archer-Style: The Season 7 Makeover!
Top image from http://www.nytimes.com/2016/03/31/arts/television/archer-season-7-tv-review.html
Hello, Archer fans, and welcome back to the latest in our ongoing series on the menswear looks of Archer. This week, we're covering the new styles the gang sports in the Season 7 premiere, which debuted last week on FX and will be coming to Netflix sometime in December or January. 
Spoilers ahead!
Seat in the upright position? Snack tray safely stowed away? Gmail status set to "busy"? Seatbelts fastened? Very well, you're ready; let's begin.
"Cyril, you have been given the opportunity of a lifetime — a new job, a new city where no one knows you — which means you can reinvent yourself. You can be anyone you want. So why would you keep being you? And that goes for the rest of you. Don't be the same feckless idiots you were when this was a spy agency." Gee, thanks Malory!
Let's start at the top, shall we? Well, let me rephrase that: let's start at the downwardly-mobile son of the former head of ISIS: Sterling Malory Archer. 
Archer's famed situational awareness no doubt clued him into LA's laid-back-yet-still-outrageously-expensive vibe. He has deep-sixed the deep grey worsted wool so perfect for New York in favour of an icy blue-grey suit in a similar cut. Is that topstitching we see on the hem? We've never been sure. But kudos to Archer for knowing a good thing (this cut) when he sees it and simply changing it up with a switch in fabric and colour. We feel cooler just looking at that suit.
The big news here is that he's ditched the tie in favour of an open collar, another classic LA look. He doesn't go full Greek Shipping Heir, however, undoing only the top button. Otherwise, the pocket square, the belt with silver buckle, much of a muchness and no change. The shoes, however, are quite different. It looks like Archer has indeed set aside his beloved Oxfords and gone with a thick-soled loafer. I wonder what his Italian cordwainer thinks about that!
Ray's new look mixes the retro-fabulousness of his off-duty choices with the high-status fashions of which he is so fond. With navy sport coat, plaid trousers, brown loafers, and white golf shirt, Ray is perilously close to looking like he rolled a Palm Springs retiree for his clothes. We'd advise him to avoid loud plaids, even in golf pants. And if he IS going to wear a glove to cover his cybernetic black hand, he should wear a matching glove on the other hand. Otherwise he risks looking as if he keeps that hand for doing unspeakable things with, and nobody will want to shake hands with him.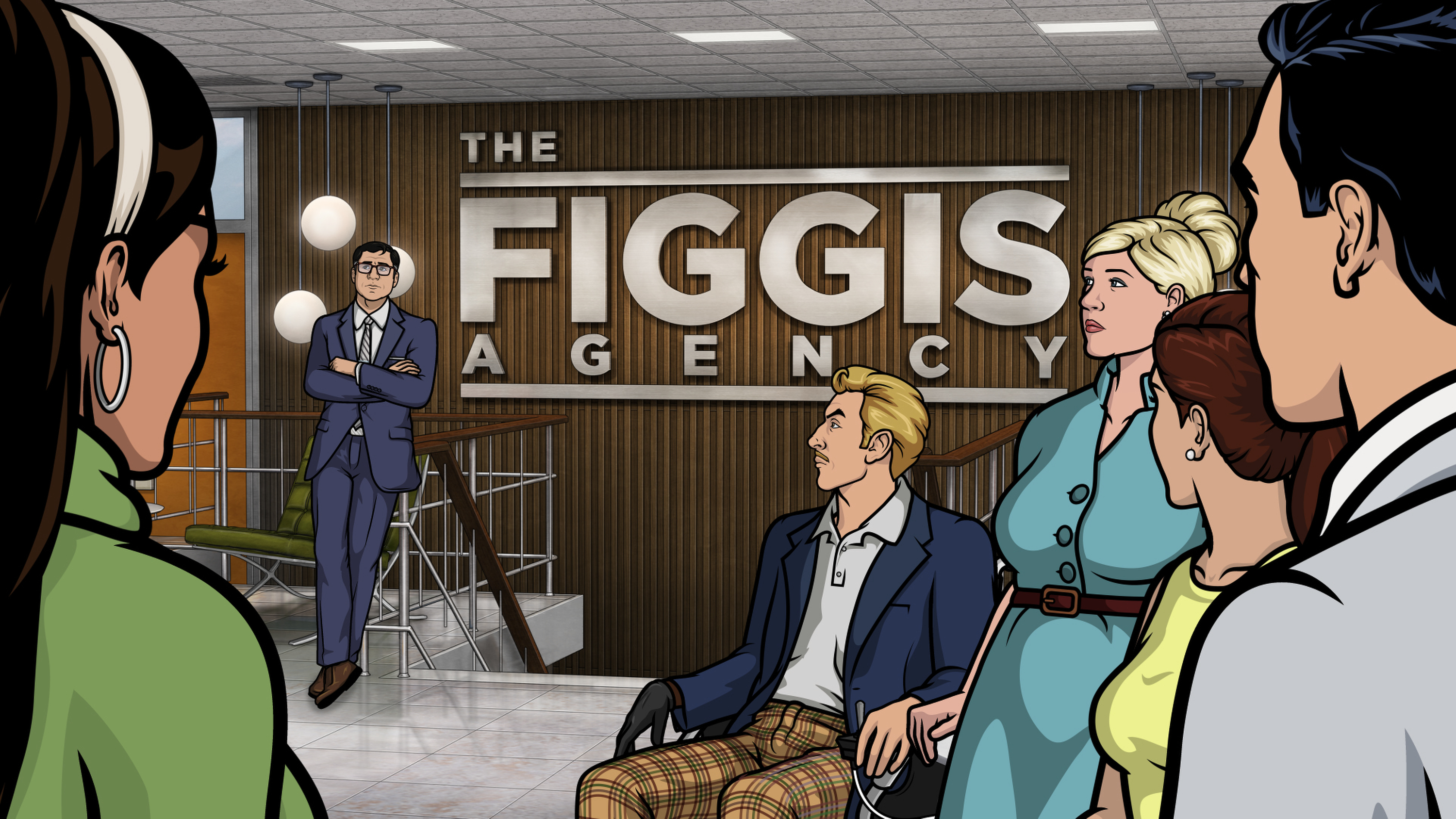 from http://hiddenremote.com/2016/03/31/archer-season-7-premiere-recap-the-figgis-agency/
Cyril's is the biggest makeover on the male side of the team, and we're loving it. As befits his new status as president of The Figgis Agency, he's now sporting a high-contrast look of dark, fitted blue power suit with two vents, white shirt (still doesn't get that collar or knot right) and striped (GASP!) grey tie with a snazzy tie pin. He's really letting loose with those status symbols. And yes, his suit's sleeve has real buttons that button and a real vent.
He's also gotten rid of those hotness-nullifying 1965 accountant glasses, and is sporting some tortoiseshell specs in a classic, masculine silhouette. Good to see him throwing off the yoke of his repressive upbringing, even in the little things.
If we could only persuade him to give up what appear to be mud brown chukka boots in favour of a nice refined black loafer, we would be very, very happy with Cyril. Bye-bye sweater vests, hello Mister President!
from http://zap2it.com/2016/02/archer-season-7-magnum-p-i-credits-homage/
Kreiger's new look appears to be: nude, with leather welding apron. Which…yeah, Kreiger. You be you. You. Be you.
But, let's be honest here. We love Archer in his new California Cool incarnation. We think Ray needs to be steered away from the golf course and back to age-appropriate choices. We adore Cyril's new power look. We're afraid to talk to Kreiger, although we think a fashion intervention couldn't hurt. 
But the real makeover winner at The Figgis Agency is Pam Poovey.
0 comments