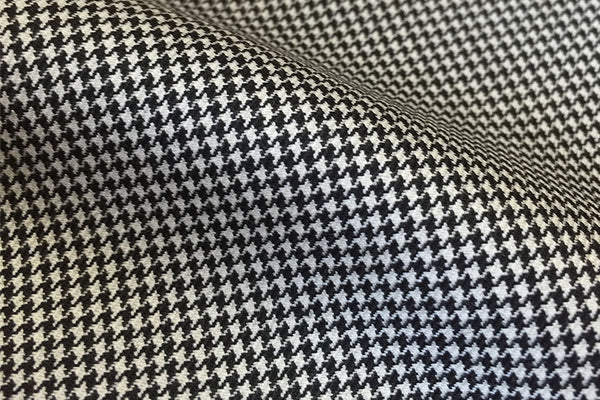 Black and White Houndstooth Overcoat
Introducing our 100% authentic English Coating Collection featuring a timeless Black & White Houndstooth pattern. Crafted from premium quality 100% wool, this fabric offers exceptional durability and warmth. With a weight of 650gms/23oz, it is ideal for creating stylish and cozy garments that can withstand the elements.
The Black & White Houndstooth design adds a touch of sophistication and versatility to any outfit, making it suitable for both formal and casual occasions. Whether you're looking to create a statement coat, peak coat, or other outerwear pieces, this fabric is an excellent choice.
The 100% wool composition ensures a luxurious feel and excellent breathability, making it comfortable to wear in various weather conditions. Its authentic English origin guarantees superior craftsmanship and attention to detail, ensuring a garment that stands the test of time.
Explore our English Coating Collection and discover the exceptional quality and elegance that only authentic English fabrics can provide. Elevate your wardrobe with our Black & White Houndstooth fabric and create garments that exude style and sophistication.
Shop now and experience the excellence of our 100% authentic English Coating Collection, perfect for crafting high-quality and timeless pieces that will make a lasting impression.